Master-to-student workshop training starts on Saturday,
October 2, 2021
. The two masters, who perform the arts of kündekari and carving in Istanbul and have worked on important projects where these works are present, will transfer their traditional arts to 20 project students. The hands-on trainings, which will be given by the masters in their own workshops, will last for 22 weeks. The trainings were planned alternately in groups of 10 in kündekari and carving workshops. Transportation to the workshops will be done by shuttle bus in the form of pick-up and drop-off from the school. Students have the opportunity to practice at the Zincirlikuyu ISOV Vocational and Technical Anatolian High School Restoration Workshop. We wish success to our students…
Let's get to know our master artisans
---
Gürsel Karaçimen
"I am happy to teach these young hands now, in order to pass on the art of wood carving to future generations."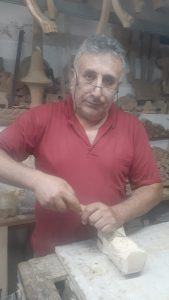 Master Gürsel started art in 1977 in Tarlabaşı, Istanbul with the master Nejdet Türemiş of Adana. He carried out the restoration of many carved wooden architectural elements such as the Dolmabahçe Palace, the beautiful buildings of Istanbul, the Aya Yorgi church and the pulpit of the Kasımpaşa Algerian Mosque. He gave carving trainings to groups from different occupations. Master Gürsel continues to perform and transfer his art in his own workshop.
Cengiz Beşiktaş
"I see students as the masters of the future."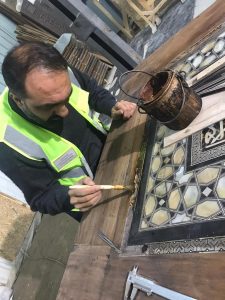 Master Cengiz came across wood carving and kündekari works while working in the Şehzade Mehmet Mosque. The woodwork on the mosque doors caused him to have an extraordinary interest in ancient artefacts. As a result of this meeting, which he described as luck, he worked on the art of kündekari with great love and devotion. He carried out the restoration of the wooden works of very valuable structures such as the minbar of Manisa Ulu Mosque, the gates of the Yeni Mosque Hünkar Pavilion and the Sultanahmet Mosque. Master Cengiz continues his professional life in his own workshop with his partner Tuncay Ağdemir, who continues his father's profession.